Contact information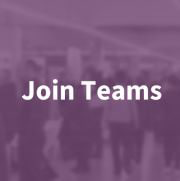 Available for discussion at:
2022-01-20, 12:00 - 12:30
2022-01-20, 12:30 - 13:00
Tervetuloa kuulemaan nuorten uratarinoita Bittiumilta!

Pidämme 2 lyhyttä tilaisuutta: klo 12-12.30 ja klo 12.30-13.00 Tilaisuudet ovat suomeksi, materiaalit ovat englanniksi. Tilaisuuksien loppuun on varattu aikaa myös kysymyksille.

Welcome!

Bittium is hosting two short events where we present the company and share career experiences at Bittium. The events (12-12.30 and 12.30-13.00) are in Finnish, materials are in English and some time is reserved for questions at the end of events. Questions can be also in English.

Leave an application at jobs.bittium.com!
https://jobs.bittium.com
Bittium is a Finnish engineering company where we design our own products and carry out demanding R&D projects for our customers all over the globe. Our core competence is in secure wireless data transfer and designing complete products and low level software. Our customers trust us when they need products and solutions for medical and defense organizations, network operators and manufacturers.

If you ask a person what is best in their work at Bittium, almost everyone says "the work is very versatile". This means, that the projects and ventures are very versatile but also, that the way of work is rich and fluent. Here you can put your heart into your work, work with a great team in progressing pace and you can feel proud of what you have accomplished. Those individuals, who tend to look outside the box, think a bit bigger and are eager to get their voices and ideas heard seem to thrive here at Bittium. The hard core of our business is our staff's skill and enthusiasm to create something new. Also, we have modern and functional work environments, good benefits, ergonomics and tools are up-to-date. As an employer we are fair and flexible, we make decisions close, with common sense and listen to our staff.

Bittium is constantly looking for fresh faces to build the future of wireless technologies. Are you a technical student aiming to be the next star of the industry? Are you studies still ongoing, but you would like to get going with your career already? No problem if you are still in the beginning of your learning curve - your positive attitude and enthusiasm to learn more are what makes the difference. At Bittium you get to work on versatile and interesting assignments and to learn from the best talents of the industry. And of course, we have a nice benefits package, fun social events, and excellent working conditions.

At Bittium you get your hands dirty right away with actual work on our versatile projects. With us you can combine work and studies in a flexible way, or make a thesis work. If you already have an idea on mind let us know in your application and we'll talk more!

Field of operation
Information technology, Engineering
Offices in Finland
Oulu, Kuopio, Kajaani, Tampere, Espoo
Turnover of the company
78,4 million in 2020
Personnel
app. 660
Open positions
Ongoing recruitment especially for software professionals for many types of positions.
Application
Degree programme
Mechanical Engineering
Process Engineering
Electronics and Communications Engineering
Computer Science and Engineering
Physics
Mathematical Sciences
Information Processing Science
Biomedical Engineering
Product Management
Wireless Communication Engineering
Software, Systems and Services Development in Global Environment
Year of study